2018 marks the 100th anniversary of the end of World War I, the "war to end war". This fall we invite you to incorporate White Peace Poppies as well as the traditional red poppy in your teaching this Remembrance Day.
First introduced in Britain in 1933, the white poppy commemorates all victims of war, civilian and military, while challenging the beliefs, values and institutions that make war seem inevitable.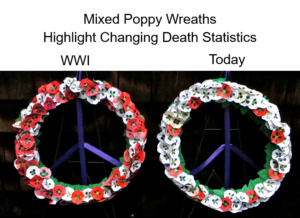 While respecting and honouring the sacrifice of soldiers, mixed poppy wreaths like those on the left also recognize the huge shift towards higher civilian casualties in recent conflicts. Civilian victims (including many children) now make up more than 90% of the total war dead.
The environmental impacts of war, and the lost potential of an estimated 50 million children whose education is disrupted by war are other consequences our world cannot afford.
By exploring the broader impacts of war, and better reflecting the experience of recent immigrants, teachers at all grade levels can help keep Remembrance Day relevant to students' lives and interests.
Vancouver Peace Poppies offers ideas and resource materials for secondary and primary teachers, plus subsidized white lapel poppies for use in Canadian public schools.  We can also provide poppies at cost for Canadian private schools, but encourage them to order directly from the Peace Pledge Union.