We started wearing handmade white poppies many years ago. For us, wearing both red and white poppies is a way of saying "Remember the fallen, including civilians, and work for peace". We have had many meaningful conversations with strangers that started with "What's the white poppy for?".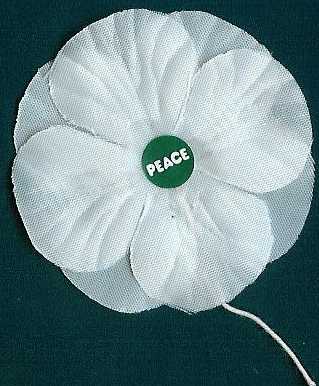 I have always had respect and sympathy for veterans, who put their life, health and family on the line to serve. I believe they deserve recognition and support, but for years I was uncomfortable wearing a red poppy, because of the undercurrent of promotion and recruitment for current and future wars that I detect in many public events around the topic of supporting veterans. The white poppy attracts questions, and gives me a chance to explain the nuances of my support.
– Teresa Gagné, co-founder Vancouver White Poppies
---
This Year Wear a White Poppy…
– to commemorate all victims of war
– to mourn the environmental devastation it causes
– to reject war as a tool for social change
– to call for dialog and peaceful conflict resolution
– to show your commitment to building a better future
Where does your money go?   We distribute poppies by donation as a consciousness raiser, not a fundraiser – we just try to break even (not counting our hours, gas, …) . Importing poppies costs us ~$.93 ea. This money goes to the Peace Pledge Union in Britain and helps fund their excellent peace education work. Our additional expenses for pins, postage, envelopes & printing are ~$.29/poppy for a total of ~$1.22/poppy. Your donation of $1-$2/poppy lets us cover expenses and provide poppies at below cost to schools and disadvantaged groups.
Our depots with counter displays do not yet have poppies
Rest of Canada
Helpful hints
Additional Sources: Purchase or make your own White Poppies