We can mail White Peace Poppies for 2023 anywhere in Canada (not USA).
It's too late this year for Canada Post to deliver them in time for November 11. There are many depots in Vancouver and a few in the rest of the country.
See below for an explanation of where your donation money goes.
If you are looking instead for Red Poppies please see the Canadian Legion Red Poppy Campaign website.
We started wearing handmade white poppies many years ago. For us, wearing both red and white poppies is a way of saying "Remember the fallen, including civilians, and work for peace". We have had many meaningful conversations with strangers that started with "What's the white poppy for?".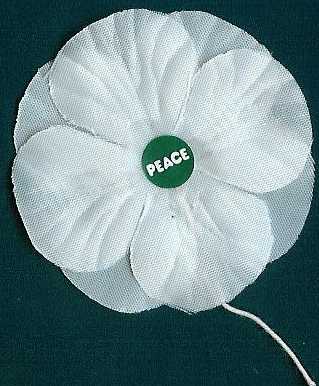 I have always had respect and sympathy for veterans, who put their life, health and family on the line to serve. I believe they deserve recognition and support, but for years I was uncomfortable wearing a red poppy, because of the undercurrent of promotion and recruitment for current and future wars that I detect in many public events around the topic of supporting veterans. The white poppy attracts questions, and gives me a chance to explain the nuances of my support.
– Teresa Gagné, co-founder Vancouver White Poppies
---
This Year Wear a White Poppy…
– to commemorate all victims of war
– to mourn the environmental devastation it causes
– to reject war as a tool for social change
– to call for dialog and peaceful conflict resolution
– to show your commitment to building a better future
Purchase (for 2022) or make your own White Poppies
Some depots now have poppies
If you want depots in your community in 2022, please approach likely businesses and encourage them to contact us for supplies and explanations.
We will be reaching out to places with available counter space ) awkward in these COVID times).
In 2019 the Vancouver area had depots in 1 church, 3 cafes, 2 groceries, 2 bookstores, 2 dentists and 2 pharmacies; Whistler had 2 second-hand stores; Toronto had 3 churches.
In Quebec a sister organization Echec A La Guerre has a very successful network.
Many other communities distributed white poppies without being publicized on this website, in particular Voice of Women for Peace.
Helpful hints