CTV coverage of 2019 ceremony
Text and 39s video on bc.ctvnews.ca by Jim Fong and Carly Yoshida-Butryn.
Co-op Radio Redeye Saturday Nov 9 – interview with Teresa Gagné & Fazineh Keita
audio on Spreaker.com (23m)
News 1130 advance article 2019 Nov 8
Memorial for forgotten victims of conflict to be staged at Vancouver's Seaforth Peace Park
Press release for November 11, 2019 Wreath Ceremony "Let Peace Be Their Memorial"
Click to download lpbtm-2019-press-release.pdf
Capilano Courier Article The Emancipation of the Poppy by Megan Amato, November 1, 2019
Common Ground ad October 2019  on issuu.com
CityTV interview of Vancouver Peace Poppies and BC-Yukon Legion.
https://www.citynews1130.com/video/2018/11/01/red-poppy-or-white-poppy/ Nov 1, 2018 – 2m20s , some advertising
Article in November 2018 issue of Common Ground Magazine
About the Groups Hosting the Wreath Ceremony:
Vancouver Peace Poppies was founded in 2007 to promote the wearing of white poppies to commemorate all victims of war, and to recognize war's devastating environmental consequences.
The BC Humanist Association provides a community and voice for the Humanists, atheists, agnostics and non-religious of Metro Vancouver and British Columbia. It supports the growth of Humanist communities and campaigns for progressive and secular values.
Media contacts:

Teresa Gagné, Spokesperson
Denis Laplante, co-founder and a fluent Francophone, is also available for interviews
www.peacepoppies.ca
info@PeacePoppies.ca
604-437-4453 (land)
604-446-4453 (cell)

Ian Bushfield, Executive Director
www.bchumanist.ca
exdir@bchumanist.ca
604.265.9298
Media Resources:
Vancouver Peace Poppies has a large library of photos and other graphics suitable for accompanying any article. Images include red and white poppy wreaths created by local schoolkids, photos from last year's Nov. 11 ceremony, plus many images of white and mixed poppies in various formats and backgrounds. For detailed views of the handcrafted Universal Wreaths see: Google Photos album from November 11, 2017
Press releases for previous ceremonies:
Click to download – Press Release Let Peace Be Their Memorial 2017-11-11
Past media coverage and related events:
November 9, 2017 – Evening of Peace Songs and Poetry at Notional Space , 1523 East Pender (near Commercial) Door 7:30 pm. Concert 8 pm.
Featuring the Left Coast Labour Chorus; Re:Sisters; Jim Edmondson & Madeleine DeLittle; Ruth Walmsley and Friends, Bill Hood & Georgina Arntzen; plus poets Christopher Levenson, Leslie Timmins, Ken Klonskey and others.
---
Read article in October 2017 issue of Common Ground Magazine
---
July 15, 2017 – Book Tour Canada: The Case for Staying Out of Other People's Wars by William (Bill) Geimer. Location: People's Co-Op Bookstore, 1391 Commercial Drive, Vancouver.
As a veteran of the US 82nd Airborne Division and through his work as a lawyer and law professor emeritus, Bill presents a compelling case that Canada can end its fealty to powerful patrons like the UK and the US and instead make a more valuable contribution to international relations.
Available in Victoria from the author, Monroe Books and Chapters; in Vancouver from People's Co-op Bookstore.
---
May 13, 2017 – PROVINCIAL PEACE AND DISARMAMENT SUMMIT at University of Victoria, organized by Vancouver Island Peace and Disarmament Network.
Watch Teresa Gagné's talk at the summit:

Click here to download Power Point Presentation slides from Teresa's talk.
---
November 11, 2016 – Let Peace be Their Memorial a solemn ceremony in which wreaths were laid to commemorate civilian victims of war and conflict. Event Invitation
This free, public, city sanctioned event was co-hosted by Vancouver Peace Poppies and the BC Humanist Association and about 150 people gathered at the south plaza of Seaforth Peace Park (Burrard @ 1st Ave) from 2:30 to 3:45pm on Remembrance Day.
"Universal" Wreaths were first laid for:
Children Killed, Injured or Orphaned by War
Conscientious Objectors & War Resisters
Medical & Aid Workers Killed While Helping Others
Child Soldiers
Refugees Fleeing Conflict
PTSD Sufferers Civilian and Military
Women Raped and Victimized in Wartime
Lost Potential From Education Disrupted by War
The Environmental Devastation Caused by War
Peace.
Wreaths were then laid in remembrance of particular conflicts:
WWII in Asia
Atomic Bombings in Japan
Syria.
In conclusion, wreaths were laid by:
Vancouver Parks Board Commissioner Catherine Evans and
Member of Parliament Don Davies.
After the ceremony, the wreaths were on display outside the Unitarian Church of Vancouver. For more photos see: PeacePoppies on Google and BC ALPHA blog .
Watch highlights of the 2016 ceremony on Youtube:

Listen to Teresa speaking on how war doesn't work:
---
November 10, 2014 – The Toronto Observer: Red or White poppies? Some call the white poppy offensive, but it isn't intended that way
---
November 9, 2014 – Two TV interviews: CBC News Vancouver and Téléjournal Radio Canada Vancouver
---
November 2, 2014 – CBC Radio: Veteran Malcolm French speaks to The180 about why he will wear both white and red poppies alongside his medals.
Read CBC article: Do red poppies and white poppies contradict each other? and listen to Veteran Malcolm French by clicking on "Listen" link at the top of article.
Click here to listen to the thoughtful responses of 27 students from Southridge school in Surrey, BC to the speech by Veteran Malcolm French.
---
November 11, 2012 – Pre-Dawn Commemoration of Military and Civilian Deaths by William Geimer in Victoria, BC
In an effort to raise mainstream awareness of civilian deaths, which began to be acceptable in the Great War, and whose numbers far exceed military casualties. William Geimer lays s wreath at 5 a.m. This was the exact time the armistice was signed, but it did not go into effect until six hours later, and during those six hours, attacks continued and nearly 3,000 died.
---
November 11, 2013 – Remembrance Day ceremony in Vancouver's Grandview Park, Father Hollander focused on the importance of justice, kindness and reconciliation, quoting "Swords into Ploughshares" and Micah 6:8 . He acknowledged civilian victims of war and wore a white poppy alongside the red, and nobody took offence.
---
November 2, 2012 – Peace Poppies Campaign Launch Press Event at Mountain View Cemetery in Vancouver
Veterans Woodrow Coward and David Laskey spoke about the importance of remembering all victims of war. We unveiled a pair of wreaths with white and red poppies to illustrate the relative count of civilians and military victims in modern wars, and also talked about the environmental impact of war.
Welcome to Mountain View Cemetery. The message on the gates through which you entered read – "Where Vancouver Remembers". …
Hamit Dargadan : "Before there can be remembrance of a thing, there must first be knowledge of it. We hope to ensure that the knowledge, and memory, of war includes its victims: all of its victims …
The two wreaths you see were made from poppies, coloured by local school children. They reflect the huge shift towards higher civilian casualties in recent conflicts. …
Yes, I have studied war, and been in several. What the introduction did not mention is that for 7 ½ years of my 30 YEARS of military service, I was separated from my family. …
The nature of war-making has changed dramatically since Napoleon's and MacRae's day. The instruments of war are now turned on civilians with devastating effect. …
Our collective belief that we must maintain huge standing armies , and spread across our planet colossal stockpiles of catastrophic weapons of destruction, and our past and continuing belief that internal and international differences can only be resolved by war is leaving a huge and lasting military boot print on our planet. …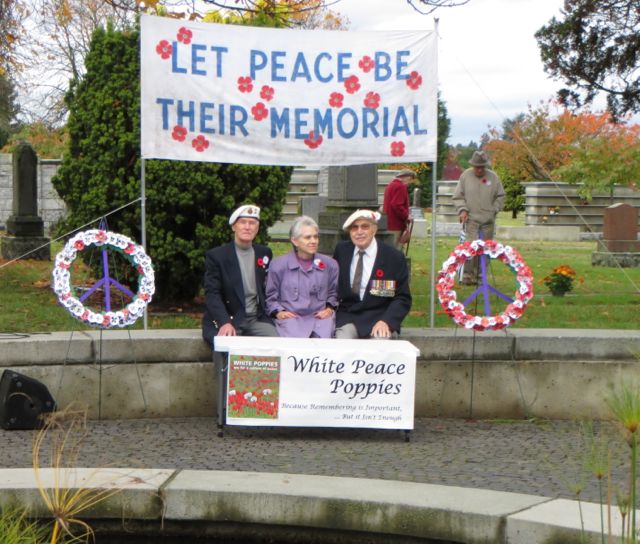 Dave Laskey excerpt:
Remembrance Day memorial is to honour and pay tribute to all Canadians, who served and died for peace, in the time of war. …
It was there in Hiroshima, where I met my late beloved wife of 53 years, Kinuko Doi, a survivor of the atomic bomb. Having survived, she felt her principle responsibility in life was to promote non violence, and relate her experience to others, by telling people the horrors of the first Atomic Bomb used in war. …
---
November 1, 2012 – Article about White Poppies in Vancouver Courier Click here to view article.